Latest pages released
PAGE LAST UPDATED : 07 DECEMBER 2021
This page shows the genie data pages that have been uploaded into the database so far this year. Pages uploaded in earlier years are shown, in date order, here (2002-2011) and here (2012-2020). The subtotals in bold below, and on the prior-years pages, show the numbers of the pages at various midpoint dates (in order Section I-Section II-Section III = Ancient-Continental-British) which have been used to provide the following graph. This shows the growth of the database from September 2002 to November 2021 (excluding the many draft & temporary pages).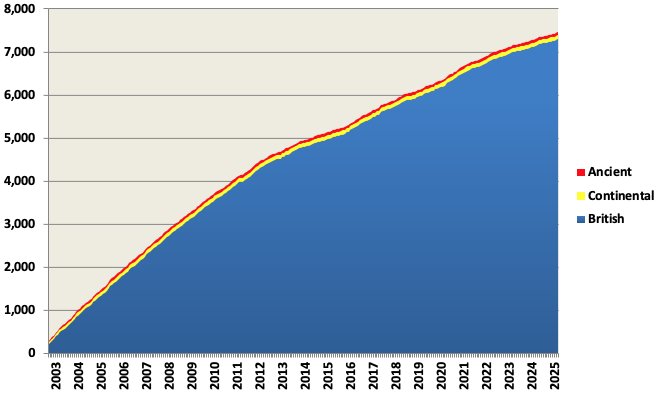 You may wonder what makes us decide to include some families before others. The answer is that there is often little logic or specific purpose to it. We started off with certain core families related to Stirnet's founder's family (as reported on Sources and acknowledgments) and then gradually expanded the database, trying to cover all parts of the British Isles. We recognised that it would be sensible for us to develop a base of some 'major' familes (such as the Stewarts, Tudors, Howards & FitzGeralds) but at the same time we were keen to include many 'small landowners' and 'townfolk' to evidence that we intend for the database to set a broad target for people who want to find connections to historical figures and not just make it easier for people who already have a clear connection to a well-documented family. From time to time we may focus on a particular area of the British Isles or on a 'theme' (past themes have included the British Prime Ministers shown on the Selected Individuals page). If we are presently working on any theme or series of reviews, there will probably be reference to that in the "PCBG notes" given below.
We welcome suggestions for families to work on PROVIDED THAT you give clear direction as to where the data may be (or has been) sourced (remember that Sources and acknowledgments identifies many of the sources we already have copies of) AND you allow properly for the fact that we operate to the following constraints:
(1) with few exceptions, we do not come more forward in time than generations with at least one person born by 1800 (which at least means that, for many families, there is some overlap with the early censuses which can be found online elsewhere); and
(2) we focus only on British & Irish families so, unless a family comes back into the British Isles by 1800, it is very rare for us to follow a line which has emigrated from the British Isles; and
(3) we shall not include a family in our database until we have found a connection between that family and another family which is already in the database.
Several people have been very helpful with this, not least with suggesting useful sources we had not used previously, and so have obtained Free Membership. For more information on this, see Membership Scheme.



New pages uploaded so far in 2021: 211
01.01 Wales81 06.01 Davenant1, Davenant2 09.01 Davies04 11.01 Dallaway1, Maghull1 12.01 Birch2, Birch3, Frere4, Moore15 13.01 GZmisc13 14.01 Fetherston03, Maitland04 16.01 Bodrugan1 17.01 Arcedekne1 18.01 [old Brodrick1 renamed Brodrick2] Brodrick1 19.01 Brown20, Brown21 20.01 Villiers03, Watson03 21.01 Webb06 23.01 Lake03, Woodrove03 25.01 Stamford1 28.01 Bentley1 29.01 Wiggett2 30.01 Bedford1 At 31.01.21: 64+95+6519=6678 01.02 CZmisc21, Godde1 02.02 Barton04, Houlton1 03.02 Debonnaire1, Dupuis1 05.02 Gwynne1, Holford02 06.02 Withy1 07.02 Harington4 08.02 [old Wordsworth1 renamed Wordsworth3] Wordsworth1 09.02 Peverel2 10.02 Jackson05 12.02 Gibbs02, Sibthorp1 13.02 Waldo1 14.02 Crispe2, Harrison4 18.02 Aldworth2, Amyand1, Cole04 20.02 Wilson09, Wilson10 21.02 Bragg1 24.02 Braithwaite1, Hall09, Knight03 25.02 Fergusson03, Ligonier1 26.02 Pickering03 At 28.02.21: 64+95+6549=6708 04.03 Harington5, Lauder04, Lowth1 05.03 Hord01 06.03 Garvey1 07.03 Eaton1 08.03 Hinton1, Madocks02 10.03 Vawdrey1, Wyatt3 11.03 Heysham1 12.03 Dowse1 15.03 Thorner1 17.03 Lane04 20.03 Shank1 21.03 Rivett1, Rivett2 22.03 Bolney1 23.03 Blosse1 25.03 StAndrew1 27.03 Clench1 31.03 Bisse1, Bisse2 At 31.03.21: 64+95+6572=6731 02.04 Courten1 05.04 [old Langley1 & Langley2 renamed Langley04 & Langley05 respectively] Langley01, Langley02, Langley03, Langley06 10.04 Haynes1 11.04 Hopkins02, Probyn1 13.04 Shuckburgh3 15.04 Boddington1 22.04 Seede1 24.04 Brown22, McCausland1 26.04 Heard1 27.04 LZmisc13 29.04 Clinton03, Higgins1, Higgins2 At 30.04.21: 64+95+6590=6749 07.05 Evelyn2, Evelyn3 09.05 Colston1 12.05 Alder1 14.05 Smart1 16.05 Gregory03, Prichard1 17.05 Bell04, Gery1, SZmisc21 18.05 WZmisc13 21.05 Comberbach1, Comberbach2, Henshaw1 22.05 Harrison5 25.05 Pritchett1, Rufford1 28.05 Pix1 At 31.05.21: 64+95+6608=6767 06.06 Speed1 09.06 Priaulx2 12.06 Pincke1, Pincke2 15.06 Haldenby1, Tenison2 16.06 DZmisc13 19.06 Longden1 20.06 [old Grazebrook1 renamed Grazebrook2] Grazebrook1, Wolley2 21.06 Barker06 28.06 Stonor3 30.06 Bures1 At 30.06.21: 64+95+6621=6780 05.07 GZmisc14, Hervey10, Hobson1 08.07 Hartwell1, Ourry1 09.07 Butler23, Talbot08 10.07 Holditch2, Ray3 11.07 Acworth1, Oakes1 18.07 Clarke08, StEloy1 27.07 Staresmore1 31.07 Wittewrong1 At 31.07.21 64+95+6636=6795 01.08 Duppa1 03.08 Lloyd28 04.08 LeHeup1, Peers1 06.08 HZmisc20 19.08 [old Harman1 renamed Harman2) Harman1 21.08 Mahony01 At 31.08.21 64+95+6643=6802 02.09 Mahony02, Mahony03 04.09 Watson04 05.09 Blagrave2, Buckeridge1 09.09 Northwood2, Twemlow1 15.09 Bazely1 16.09 Fuller04 17.09 Goddard04, Raynsford2 20.09 Sheibell1 21.09 Clarell1 23.09 Brady1 24.09 George02 At 30.09.21: 64+95+6658=6817 02.10 Noye2 05.10 Aylmer4 06.10 Buckeridge2, Stewart33 08.10 Cope04, Roberts12 09.10 Herries2 10.10 Dalrymple4, Orr1 11.10 Wilkie1, Wilkie2 12.10 Hewson2 15.10 Liston1 16.10 Halkerston1, Rankin2 17.10 Barron1, Barron2, Hardy03 19.10 Lewin4, Young09 20.10 [old Travers01 & Travers02 renamed Travers02 & Travers03 respectively] Travers01, Travers04 23.10 Dingwall1 25.10 Fordyce1 At 31.10.21: 64+95+6682=6841 02.11 Molony1 04.11 Fuller05 07.11 Smethcote1 09.11 Noble1, Noble2 12.11 Theobald1 13.11 Philipps07 16.11 Corsellis1 18.11 Floyd1 19.11 Fuller06 24.11 Scott21 26.11 Barnston1, Doddridge1 27.11 Boothby2 28.11 Tristram3 29.11 Henderson04 At 30.11.21 64+95+6698=6857 01.12 Boothby3 02.12 Spittal1 05.12 Binning1 07.12 Drury07, Watson05.
PCBG notes (last updated 06.12.21)
(1) I have a large backlog of things to work through at the moment, not least:
* Catching-up with correspondence. I have problems keeping up with the emails I receive and do apologise to those of you who are still waiting for a response from me. For more on this, please see the Contact Us page.
* Trying to upgrade the huge amount of data in Draft & temporary pages: Can you help? so that it may be moved into 'the database proper'.
* Working through some of the many issues within the Families Database that I know warrant further attention. I have marked many of these using the phrase "in due course" so that I can search the database for them in due course.
(2) Provisonal ambitions for 2022 are mainly those left-over from 2021!
* completing my plough through the many volumes of 'Miscellanea Genealogica et Heraldica', referred to within the database as "MGH". A note on that most useful source is given on the MGH tab on Sources & Acknowledgements.
* making some progress with The Tribes of Wales and connecting as many Welsh families to that page as possible. I started on this interesting but complex & difficult challenge back in 2009 (I think) but since then have merely dipped in & out of it. It is a messy project so I am having to leave some workings dotted around the site which I will sometimes mark with something like "[2021-2 review: ...]", or "in due course", so that I do not lose sight of them.
* having a look back at some of the 'big name families' I worked on in the early years of the database (Normans, Plantagenets, Stewarts, Tudors, FitzGeralds, etc.) to check that I have considered the sources on them which I now have at hand but which I may not have had access to in those days.
(3) I sometimes focus on 'multi-branch families', many of which were Scots who seem to have had more of a tradition of documenting junior cadet branches than the English did and who are normally easier to follow than Welsh & Irish families. So far I have worked on the Burghs, Campbells, Carews, Frasers, Hamiltons, Leslies, MacDonalds, Mackenzies, Montgomerys, Munros & Sinclairs.
* Other families to be covered in due course will probably include Bruce, Bulkeley, Douglas, Johnston, Leigh, Murray, Ogle & Stewarts.
* I am still stuck on the Staffords so any suggestions on them would be welcome.
(4) Being apparently quiet for a while may mean that I have made only minor changes to the database pages in that period (something that is quite common; reviewing old pages & making minor changes can take longer than producing new pages) or that I am in the midst of a major project that is taking several days to complete (also quite common) or, of course, that I have simply not worked on the site recently.
A. Only on rare occasions will I work on Sections I & II of the database, the Ancient & Continental sections that cover the early ancestors of various British Royals and others (see Ancestral Lines). Normally I concentrate on expanding & improving Section III of the database ('British Families - Medieval, Renaissance & Modern'). If you wish to suggest a family for me to work on, please see "We welcome suggestions ..." above.
B. The following pages have recently been subjected to significant change/extension and/or review (some involving the insertion of new families): 02.10 Buckeridge1 03.10 Lewin3 05.10 Aylmer1, Aylmer2, Aylmer3, Clarell1, Haldenby1 06.10 AZmisc13, Buckeridge1 07.10 Lewin3, Loraine1 08.10 CZmisc21, Hervey01, Hervey10 09.10 Graham14 10.10 Bayne3 12.10 Hewson1 13.10 PZmisc06 15.10 Scott10 16.10 BZmisc14 18.10 Allen07, McCall1 19.10 Torkington1 25.10 Irvine01, Lindsay09 26.10 CZmisc06 02.11 Herries1, Landor1, Wentworth01 03.11 James01 06.11 BZmisc05, Willoughby05 07.11 Smithett1 08.11 Hopkins02, Porter02, Porter03 09.11 Cotton08 13.11 Boothby1 17.11 Fox03 24.11 Scott12 02.12 Forrester02 05.12 Lowth1.
C. Latest non-trivial additions/changes to Draft & Temporary pages linked to/from the Can You Help? page: 03.10 Temp36 07.10 Tmp27 12.10 Tmp28 26.10 Temp48 02.11 Tmp28 10.11 Tmp28 13.11 Tmp29 26.11 Tmp30 30.11 Tmp29 06.12 Tmp30.
D. See The Stirnet Portal to find out how easy it is to get a free link from this Families Database to your own web site. If you don't have your own site at the moment but would like one, we may be able to help you with that also.