Latest pages released
PAGE LAST UPDATED : 25 JANUARY 2021
This page shows the genie data pages that have been uploaded into the database so far this year. Pages uploaded in earlier years are shown, in date order, here (2002-2011) and here (2012-2020). The subtotals in bold below, and on the prior-years pages, show the numbers of the pages at various midpoint dates (in order Section I-Section II-Section III = Ancient-Continental-British) which have been used to provide the following graph. This shows the growth of the database from September 2002 to December 2020 (excluding the many draft & temporary pages).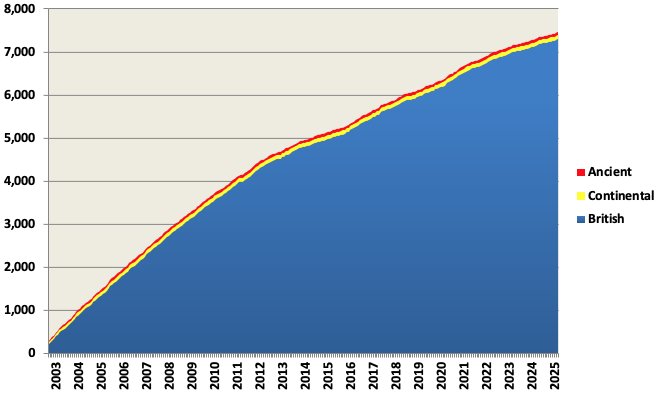 You may wonder what makes us decide to include some families before others. The answer is that there is often little logic or specific purpose to it. We started off with certain core families related to Stirnet's founder's family (as reported on Sources and acknowledgments) and then gradually expanded the database, trying to cover all parts of the British Isles. We recognised that it would be sensible for us to develop a base of some 'major' familes (such as the Stewarts, Tudors, Howards, and FitzGeralds) but at the same time we were keen to include many 'small landowners' and 'townfolk' to evidence that we intend for the database to set a broad target for people who want to find connections to historical figures and not just make it easier for people who already have a clear connection to a well-documented family. From time to time we may focus on a particular area of the British Isles or on a 'theme' (past themes have included the British Prime Ministers shown on the Selected Individuals page). If we are presently working on any theme or series of reviews, there will probably be reference to that in the "PCBG notes" given below.
We welcome suggestions for families to work on PROVIDED THAT you give clear direction as to where the data may be (or has been) sourced (remember that Sources and acknowledgments identifies many of the sources we already have copies of) AND you allow properly for the fact that we operate to the following constraints:
(1) with few exceptions, we do not come more forward in time than generations with at least one person born by 1800 (which at least means that, for many families, there is some overlap with the early censuses which can be found online elsewhere); and
(2) we focus only on British & Irish families so, unless a family comes back into the British Isles by 1800, it is very rare for us to follow a line which has emigrated from the British Isles; and
(3) we shall not include a family in our database until we have found a connection between that family and another family which is already in the database.
Several people have been very helpful with this, not least with suggesting useful sources we had not used previously, and so have obtained Free Membership. For more information on this, see Membership Scheme.



New pages uploaded late in 2020
16.11 Done3, Vincent5 17.11 Goulston1 18.11 Levett1, Levett2 19.11 Smith31 20.11 Tristram2 23.11 Barnes2, Casamajor1, Castile3 25.11 Lockey1, Norris04 27.11 Ashburner1, Moulson1, Pedder1, Sotheron1, Sotheron2 28.11 Newsom1 30.11 Borron1, Cooke11, Fuller03 At 30.11.20: 64+95+6462=6621 01.12 Heblethwayte1 02.12 Jenkinson02, Johnson04, OZmisc03 04.12 Pickering02 06.12 Campbell39, Campbell40, Campbell41 11.12 Campbell42, Campbell43 12.12 Campbell44 13.12 Campbell45 14.12 Campbell46 16.12 Campbell47, Campbell48 17.12 Heriot03, Heriot04 18.12 Biscoe1, Campbell49 21.12 [Barbour01 renamed Barber01] Barber02 24.12 Rudyard1 26.12 Dummer1 27.12 Onley1 28.12 Lacy4, Staverton1 29.12 Rowe03 30.12 Humphrey2, Wales79 31.12 Wales80, Young08 At 31.12.20: 64+95+6492=6651.
New pages uploaded so far in 2021: 24
01.01 Wales81 06.01 Davenant1, Davenant2 09.01 Davies04 11.01 Dallaway1, Maghull1 12.01 Birch2, Birch3, Frere4, Moore15 13.01 GZmisc13 14.01 Fetherston03, Maitland04 16.01 Bodrugan1 17.01 Arcedekne1 18.01 [old Brodrick1 renamed Brodrick2] Brodrick1 19.01 Brown20, Brown21 20.01 Villiers03, Watson03 21.01 Webb06 23.01 Lake03, Woodrove03 25.01 Stamford1.
PCBG notes (last updated 25.01.21)
(1) I have a large backlog of things to work through at the moment, not least:
* Catching-up with correspondence. I have problems keeping up with the emails I receive and do apologise to those of you who are still waiting for a response from me. For more on this, please see the Contact Us page.
* Trying to upgrade the huge amount of data in Draft & temporary pages: Can you help? so that it may be moved into 'the database proper'. This is being countered to some extent by the present focus on various Welsh families (mentioned just below) which is generating some material that I am having to place into temporary pages pending further review. However, I am hoping that that will be temporary and will soon be reversed as I work through this project.
* Working through some of the many issues within the Families Databse that I know warrant further attention. I have marked many of these using the phrase "in due course" so that I can search the database for them in due course.
(2) Provisonal ambitions for 2021 include:
* completing my recently-started plough through the many volumes of 'Miscellanea Genealogica et Heraldica', referred to within the database as "MGH". A note on that most useful source is given on the MGH tab on Sources & Acknowledgements.
* having another go at The Tribes of Wales and connecting as many Welsh families to that page as possible. I started on this interesting but complex challenge back in 2009 (I think) but since then have merely dipped in & out of it. It is a messy project so I am having to leave some workings dotted around the site which I will sometimes mark with something like "[2021 review: ...]", or "in due course", so that I do not lose sight of them.
(3) I sometimes focus on 'multi-branch families', many of which were Scots who seem to have had more of a tradition of documenting junior cadet branches than the English did and who are normally easier to follow than Welsh & Irish families. So far I have worked on the Burghs, Campbells, Carews, Frasers, Hamiltons, Leslies, MacDonalds, Mackenzies, Montgomerys, Munros & Sinclairs.
* I have yet to start work on a review on the Stewarts though some preparations were carried out in 2015.
* Other families to be covered in due course will probably include Bruce, Bulkeley, Douglas, Johnston, Leigh, Murray & Ogle.
* I am still stuck on the Staffords so any suggestions on them would be welcome.
(4) Being apparently quiet for a while may mean that I have made only minor changes to the database pages in that period (something that is quite common; sometimes making minor changes take longer than producing new pages) or that I am in the midst of something that is taking several days to complete (not uncommon; this can be particularly relevant when i am working on a difficult project such as the current one of trying to improve what I have on the early Welsh families) or, of course, that I have simply not worked on the site recently.
A. Only on rare occasions will I work on Sections I & II of the database, the Ancient & Continental sections that cover the early ancestors of various British Royals and others (see Ancestral Lines). Normally I concentrate on expanding & improving Section III of the database ('British Families - Medieval, Renaissance & Modern'). If you wish to suggest a family for me to work on, please see "We welcome suggestions ..." above.
B. The following pages have recently been subjected to significant change/extension and/or review (some involving the insertion of new families): 16.11 TZmisc12 17.11 RZmisc11 18.11 HZmisc19, PZmisc01 19.11 Banks03, Scott06, Smith21, Thompson05 20.11 Powell03 21.11 Avery1, BZmisc01, Webb05, Wood02 25.11 Floyer2, Fox05, Weld2 30.11 Duck1, FZmisc03 01.12 Woodrove02 02.12 Pell2 05.12 Hall07 12.12 Campbell09, Campbell23 13.12 Campbell05, Campbell24 14.12 Campbell15, Campbell21 16.12 Campbell11, Campbell17, Campbell23 17.12 Heriot01 18.12 Campbell08, Campbell38, SZmisc20 19.12 Campbell10, Campbell39 24.12 KZmisc06, Winnington1 26.12 Johnson03 27.12 Hoby1 01.01 Parry3, Wales80 05.01 Fuller02, Norton01 09.01 Lawrence01 10.01 Cocks1 11.01 Bradley1 12.01 Egerton01 17.01 Winter02 18.01 Brodrick2, Lloyd07, Woodrove01, Woodrove02 20.01 Brown21, Hawkins02 21.01 HZmisc19, Scrase1 24.01 Pearce1 25.01 AZmisc13.
C. Latest non-trivial additions to Draft & Temporary pages linked to/from the Can You Help? page: 21.11 Tmp22 01.12 Temp29 22.12 Temp61, Tmp17 27.12 Tmp22 28.12 Tmp22 31.12 Tmp23 01.01 Tmp23 02.01 Tmp23 03.01 Tmp24 04.01 Temp71 12.01 Tmp25.
D. See The Stirnet Portal to find out how easy it is to get a free link from this Families Database to your own web site. If you don't have your own site at the moment but would like one, we may be able to help you with that also.